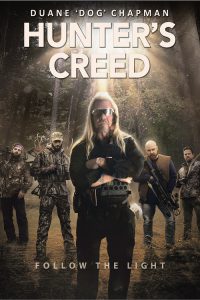 Hunter's Creed (2020)  is a found footage horror film that was directed by Justin Jackola and written by Justin Jackolda and Ken Miyamoto, and co-stars Duange "Dog" Chapman, from Dog the Bounty Hunter (2003) fame. The film has strong horror undertones and a faith-based story arch, which is a welcome breath of fresh air for the typical horror films permeating the found footage genre.
The film follows four friends who head out to a cabin in the remote forest to film the pilot episode of a hunting reality television show. The intrepid group soon come to realize that they are not alone.
The producer's of Hunter's Creed (2020)  also created the critically acclaimed found footage film, Aliens Zone of Silence (2017).
Video Review