Top 13 Scariest Halloween Found Footage Films – Popular Vote Results
It's that time of the year! What better way to get into the Halloween spirit than to watch some spine chilling found footage films? Found Footage Critic opened the polls to our readers, inviting everyone to search our formidable library of found footage films and select their top scariest Halloween picks for 2015.
We received submissions spanning six continents and across 15 countries around the globe and tallied the results! Below are the top 13 scariest found footage films as voted by found footage film fans worldwide! The films are sorted by user rating, which is calculated independently of this poll.
Not surprisingly, the results include the tried and true classics The Blair Witch Project (1999), [REC] (2007), and Paranormal Activity (2007) all three of which helped define the found footage genre. Also included is Grave Encounters (2011), which builds on the foundation of found footage and raises the bar for jump scares to new heights. We also have some newcomers to the found footage arena that are destined to be included in the next generation of classics, The Houses October Built (2013) and The Taking of Deborah Logan (2014). Two lesser known titles that made the top-13 list are The Poughkeepsie Tapes (2007) and Lake Mungo (2008), two hidden gems that are eerily haunting. Also included are the widely popular films Cloverfield (2008), V/H/S (2012), V/H/S/2 (2013), Afflicted (2013), and Unfriended (2014) all of which are worthwhile contributors to the found footage genre.
We also want to acknowledge films that received votes, but not quite enough to make the top-13 list. Scroll to the bottom of this page to see our honorable mentions list.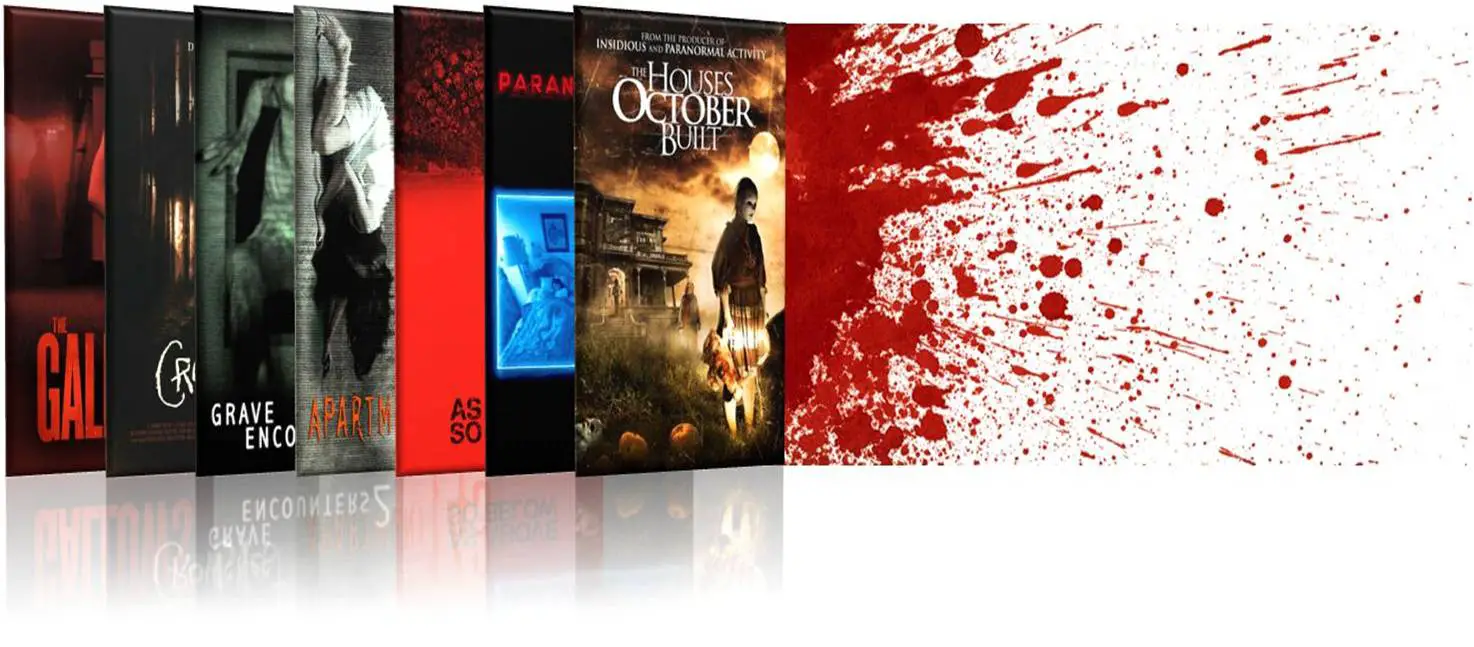 Top-13 Scariest Halloween Found Footage Films (Sorted by User Rating)
A group of friends venture deep into the streets of New York on a rescue mission during a rampaging monster attack.
Best friends Derek and Clif set out on a trip of a lifetime. Their plan: travel to the ends of the earth, see the world, and live life to the fullest. But the trip soon takes a dark and bloody turn. Just days in, one of the men shows signs of a mysterious affliction which  gradually takes over his entire body and being. Now, thousands of miles from home, in a foreign land, they must race to uncover the source of his illness before it consumes him completely. Footage of their travelsmeant to docu...[Read More]
Honorable Mentions – Found Footage Films That Didn't Make the Top-13 List
Last but certainly not least, we want to acknowledge found footage films voted by our readers that did not make the top-13 list. These films are all found footage masterpieces in their own right and are well worth watching during the Halloween season.
Devil's Due (2014)
Inner Demons (2014)