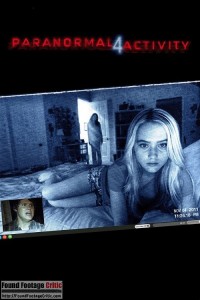 "Paranormal Activity 4" is a found footage horror film directed by Henry Joost and Ariel Schulman and written by Christopher Landon, Chad Feehan, and Oren Peli. The film is the fourth installment in the Paranormal Activity franchise. Paranormal Activity 4 follows a suburban family that experiences strange phenomena shortly after their neighbor's son moves into their home.
The film starts with the closing scenes from Paranormal Activity 2 (2010), where during 2006 Katie abducts Kristi's son Hunter. From here, Paranormal Activity 4 jumps to Halloween, 2011, where Alex (Kathryn Newton), her younger brother Wyatt (Aiden Lovekamp), and her friend Ben (Matt Shively) are out trick-or-treating. On their way home, Alex takes note that new neighbors are moving into the house next door.
A few days later, Alex's mom, Holly (Alexondra Lee) tells her daughter that their new neighbor's son Robbie will be staying with them for a few days while Robbie's mother is in the hospital.
Alex finds Robbie's behavior very odd, he talks to an imaginary friend and roams the house in the middle of the night after everyone is asleep.
buy clomiphene online https://dentalassociatesmn.com/wp-content/themes/dental-assoc/inc/php/clomiphene.html no prescription
Determined to find out what Robbie is up to, Alex asks her friend Ben to rig several laptops to act as surveillance cameras. The built-in laptop web cameras record everything that happens in the house. After reviewing the recorded footage, Alex and Ben soon discover that something much more nefarious and dangerous is taking place, and they must act quickly before it's too late.
Filming Reason
The filming reasons used throughout Paranormal Activity 4 are plentiful and exceptional. The story offers multiple overlapping filming reasons that span the film, plausibly covering much of what takes place.
At the start film, Alex's friend Ben totes around a video camera, recording Halloween and just about everything else during his visits with Alex. Ben explains away his continuous filming as an interest in cinematography, but Alex's parents continually chide him for it nonetheless.
Throughout the film, Alex and Ben engage in nightly video chat conversations which are recorded. As the story picks up, Alex learns that Ben has been recording their video chats and call him on it, to which Ben not-so-quickwittedly responds by saying his computer automatically records everything. Ben's invasion of privacy issues aside, this short exchange appropriately explains why the video chats are recorded, further bolstering the filming reason.
Most of the footage used in Paranormal Activity 3 is captured from the three laptops in Alex's house that are set up as ad hoc surveillance cameras. Alex and Ben also hide a conventional camera with night vision in Alex's living room.
buy singulair online https://dentalassociatesmn.com/wp-content/themes/dental-assoc/inc/php/singulair.html no prescription
Since these four cameras are recording to document everything taking place, the filming reason is firmly rooted.
The filming reasons in Paranormal Activity 3 are exceptional, but not quite perfect. During the last five minutes of the film, a panic-stricken Alex is running through a poorly lit location and although she appropriately uses the night vision on her handheld video camera as a light source, the scenes are too well framed and composed for someone in her state of mind. Aside from this one small inconsistency, the filming reasons used throughout the film are near perfect.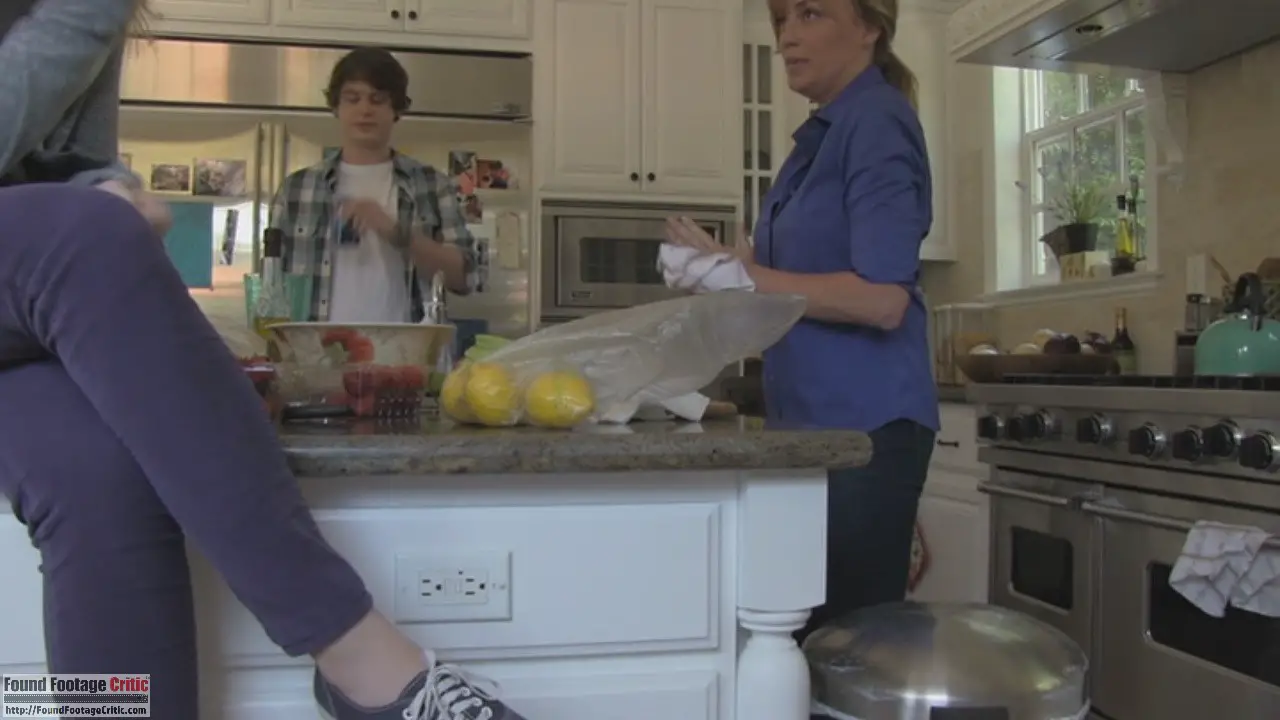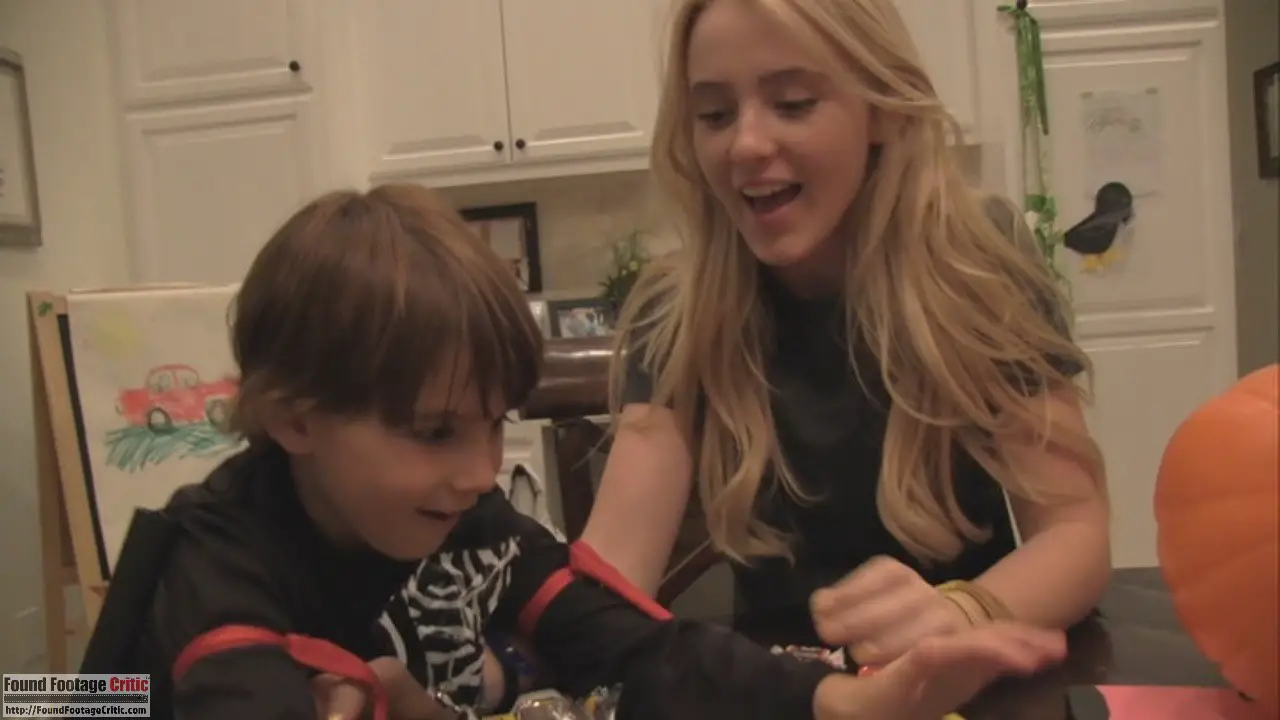 Found Footage Cinematography
Paranormal Activity 3 presents novel cinematic techniques and visual effects not used in prior found footage films. Of special note is the use of laptop web cameras as surveillance cameras. While Henry Joost could have easy started with the premise that Alex's house already had traditional surveillance cameras, we applaud him for taking this novel approach. The use of laptops in this manner gives the film a unique feel and perspective since the laptops are at desk height. Had Henry Joost opted to use traditional surveillance cameras, the cinematography would have been limited to the perspective of ceiling mounted cameras.
The recorded laptop video chats also provided a unique perspective of Alex, who sometimes carried her laptop from room to room while engaged in a video chat with Ben. This unique POV offered reaction shots of Alex while as she walks the house with her laptop. The laptop screen also appropriately lights her face in dimly lit rooms.
The signature effect used in Paranormal Activity 3 is the night vision view of the Xbox Kinect tracking dots. The use of this visual effect offers a unique look for the film and creates the opportunity to expose the unseen entity as it displaces the tracking dots through movement. To Henry Joost's credit, CGI is sparingly and subtly used, which helps maintain the found footage integrity of Paranormal Activity 3.
Cinematically, the film often cuts characters off mid-sentence as would actually happen when a camera stops recording. This technique adds to the realism of found footage films and unfortunately is not used nearly enough by filmmakers in the genre.
Found Footage Purity
The great filming reasons and cinematography used in Paranormal Activity 3 have resulted in a film with an exceptional found footage purity. The final product looks and feels like actual found footage. If there are any misgivings to be had, it would be that the film feels too polished for found footage.
All too often, there are scenes where the characters are filming while under extreme duress and the cinematography is too clean and properly framed. Aside from this specific digression, the found footage purity is near perfect.
Acting
Similar to all the Paranormal Activity films, the acting in Paranormal Activity 4 is strong throughout the ensemble cast. Kathryn Newton performs wonderfully as Alex, a teenager who is very protective of her younger brother and frustrated by her parents' unwillingness to entertain the notion that the evidence she's collected is real. Paranormal Activity 4 centers around Kathryn Newton's character and she effectively carries the film to this end. Matt Shively as Ben is great as Alex's friend. Ben has a blatant crush on Alex, who politely rebuffs his advances, keeping their relationship platonic.
Alexondra Lee and Stephen Dunham are convincing as Alex's parents, Holly and Doug. Their characters are having marital problems, and the two actors do a great job subtly conveying their discord throughout the film.
Their characters are so wrapped up with their daily routine, that they are blinded as to what is actually taking place in their home.
Aiden Lovekamp does a good job playing Wyatt, Alex's younger brother who befriends neighbor Robbie and unwittingly falls under the influence the invisible entity.
Brady Allen admirably plays the quiet and reclusive Robbie. His often silent expressions and body language create an unsettling atmosphere of dread.
Plot
Paranormal Activity 4 is one of the stronger entries in the Paranormal Activity franchise. The film follows the same formula as the prior installments while maintaining a fresh perspective with the addition of unique cinematic and visual elements. The reliance on laptops to gather most of the footage complements the story and Xbox Kinect visuals provide a unique and creepy atmosphere not used in any prior found footage (or traditional narrative) film.
The film does a great job furthering the franchise mythology which has incrementally expanded with each subsequent film in the series. The reveals towards the climactic ending of the film answer a few questions left open during Paranormal Activity 3, while creating many new mysteries that will have to wait for later films to be answered.