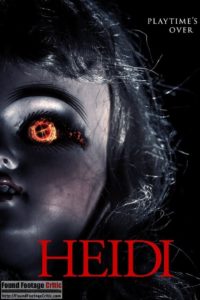 "Heidi" is a found footage horror film that is written and directed by Daniel Ray. The film follows two high school friends and filmmakers who are tormented by a haunted doll they find in the attic of someone's house.
Heidi is Director Daniel Ray's first feature film and second directorial effort, the first being a video documentary. It is not uncommon for found footage film directors to have some documentary experience, which eases the transition to shooting in the genre. Heidi is a mashup of found footage and Child's Play (1988)—think found footage Chucky. Some of the cinematic elements (described later) bear a resemblance to The Bay (2011).
The film opens with a traditional music score and credit sequence consisting of a montage of vintage dolls. From here the film transitions to found footage.
It's Fourth of July weekend and high school friends Ryan and Jack are in the midst of enjoying their summer vacation. The two friends have a penchant for filmmaking and maintain a prank-based YouTube series, called Booya.

Heidi is a mashup of found footage and Child's Play (1988)—think found footage Chucky.
With nothing better to do, Ryan and Jack decide to film their next episode of Booya. In this episode, Ryan plans on scaring his older sister Rachel while he and Jack wear rubber Halloween masks. This opening scene introduces Ryan and Rachel. We learn that the two siblings live with their Mom who is recently divorced. The film also reveals that Rachel is moving out of the family home into her own apartment.
In need of spending money, Ryan lands a job with an elderly woman who needs someone to care for her pet bird and do some light housekeeping while she's out. One day, while Ryan is cleaning the woman's house (with friend Jack in tow), they find an attic door in one of the closets and decide to explore. The attic looks as though it hasn't been disturbed in years. Once inside, the two friends find a treasure trove of mint condition comic books, artwork, sculptures, and an unsightly doll wearing a gold pendant that reads "Heidi."
Always the jokester, Jack brazenly kicks Heidi in an attempt to scare Ryan. Shortly thereafter the two friends leave the attic. Did Ryan and Jack's curiosity awaken something that was best left undisturbed? The footage will reveal the dark and foreboding truth.

Found Footage Cinematography
The found footage cinematography throughout Heidi is very good. The film utilizes a myriad of different video cameras covering the unique circumstances presented in the story. The barrage of video cameras employed in Heidi includes two professional handheld video cameras, professional news camera, spy camera, head mounted video camera (GoPro), DSLR video camera, iPhone, webcam, and teddy bear nanny cam. The sheer variety of video cameras used in Heidi ranks on the high end for a found footage film. As of this writing, V/H/S: Viral (2014) still holds the distinction of using the most types and quantity of video cameras.
director Daniel Ray employs a smart utilization of multiple cameras filming the same scene.
Director Daniel Ray is to be commended for employing different cinematic techniques appropriate to each video camera type. The professional grade video cameras offer steady clean images, while the micro spy camera adorned around Ryan's neck is appropriately shaky. Yet still, the nanny cam footage is in black and white and is often filming from odd vantage points—the camera is hidden in a teddy bear actively played with by a child while automatically filming.
buy nolvadex online https://myhst.com/wp-content/themes/twentytwentythree/assets/fonts/inter/nolvadex.html no prescription
Adding to the realism, each video camera uses different resolutions and color appropriate to the camera type. The film also makes use of night vision during several key scenes.
Also noteworthy,  director Daniel Ray employs a smart utilization of multiple cameras filming the same scene.
https://www.urologicalcare.com/wp-content/themes/chunky-child/assets/js/vibramycin.html
One standout moment in the film features Ryan and his friend Amanda. Ryan films Amanda with his handheld video camera, and Amanda, holding the teddy bear nanny cam, unintentionally films Ryan. This choreography enables the scene to toggle between Ryan and Amanda for dialog and reaction shots. Daniel Ray includes many similar scenes using the video cameras at hand throughout the film—and he always manages to keep the technique fresh.
The cinematography in Heidi also dips into the Paranormal Activity (2007) well, borrowing the low-level hum and video glitching preceding each paranormal event. It's not a spoiler to say that Heidi contains a fair amount of paranormal and supernatural activity. Heidi also includes a montage of news footage, which bears a striking resemblance in both form and content to The Bay (2011). Whether this similarity is happenstance or intentional, the callback works well in the film.
Filming Reason
The filming reasons are relatively strong throughout Heidi. The story makes a point to highlight the fact that Ryan and Jack truly want to film everything, which is a characteristic commensurate with many obsessive Youtube vloggers. The filming reason is also well utilized during scenes in Ryan's bedroom where here sets up a battery of six cameras offering multiple vantage points to capture any paranormal activity.
In several scenes, the characters utilize video cameras as a light source to film at night, which provides some modicum of justification for filming during a potentially dangerous situation. As strong as Ryan and Jack's compulsion to film everything is, the continuous filming during scenes where the characters are in danger is sometimes too incredulous to accept.
Found Footage Purity
Director Daniel Ray: "I tried to add the sense of dread with a few scores, even though it's a found footage flick."
While the cinematography and filming reasons help establish Heidi as actual found footage, the film does face several challenges. Heidi includes a good amount of strategically placed background music and non-diegetic sounds which were presumably added for dramatic effect. While the inclusion of background music and non-diegetic sounds often improves the entertainment value of narrative shot films, these audio elements often have the opposite effect in found footage. Some viewers who are lulled into the illusion that Heidi is actual found footage may be taken out of the film when these audio elements with no known source appear out of nowhere. The compelling story and creepy scenes are strong enough to stand on their own without the aid of additional audio.
Found Footage Critic asked director Daniel Ray about the incorporation of a musical score in Heidi, and he had this to say, "I tried to add the sense of dread with a few scores, even though it's a found footage flick. A film that inspired me to do this was the Japanese found footage film, Noroi: The Curse (2005). They used scores that somehow worked."
One of this reviewer's pet peeves with found footage technical correctness is audio continuity of background music. Heidi includes a pivotal scene where Jack films a party using a head-mounted GoPro camera while other guests film with smartphones. The scene includes many cuts between the different partygoer smartphone cameras and Jack's POV. The music at the party plays continuously and unbroken throughout the entire scene despite the many camera cuts.
Many found footage films faced with this plot element elect to break the music at each camera cut, providing a more realistic feel to the final product.
Without touching on spoilers, Heidi includes one particular scene involving gore. While the prosthetics in the scene are well done, the practical effects lack credibility due to the lack of blood one would expect from such an injury. Conversely, the film contains other gore effects (unmentioned to avoid spoilers) that are wholly realistic.
Of final note is a musical montage that takes place during the final act of Heidi. During this scene, Ryan films his sister Rachel practicing ballet. The ballet footage is interlaced with a series of news footage clips overlaid with Pachelbel's Canon. Given the nature of how Heidi concludes and the highly artistic nature of the montage, the film never explains how (or why) the footage was edited. Despite this divergence from the found footage conceit of the film, the scene is beautifully shot and is among the highlights of Heidi in both aesthetics and composition.
Acting
The acting in Heidi is competent overall, with several standout performances. Samuel Brian performs well as Ryan, the laid back and even-keeled high school student and filmmaker. Joey Bell performs admirably as the somewhat obnoxious and talkative friend of Ryan. Joei Fulco shares great chemistry with Samuel Brian in her role as Ryan's friend, Amanda. Rounding out the main cast are Eva Falana as Ryan's good-natured older sister, Michael Monteiro as the no-nonsense Detective Harris, and Marilyn Weinmann as Dottie, the elderly "bird lady."
Heidi also features a child actor, Ava Gianna as Tina, who is perhaps four years old. In one particular scene, the character of Tina is convincingly terrified, begging the question as to whether she was actually scared—in either case, her delivery is highly effective. Director Daniel Ray told Found Footage Critic that Tina is his real-life niece, "I got lucky with that scene. On that day, she was throwing a tantrum because she wanted ice cream and we didn't have any. During her tantrum, I grabbed my camera and had her mom walk out the front door for a brief moment. I recorded her trying to go after her mom.
https://www.urologicalcare.com/wp-content/themes/chunky-child/assets/js/levaquin.html
A few days later I shot the entire babysitting scene with her wearing the same dress for continuity. The magic of editing."
Plot
The plot and pacing of Heidi are the heart and soul of the film. Very rarely does a found footage film come along with a story that has the depth and breadth of Heidi. While not explicitly stated, we can presume that Heidi is loosely based on Chucky's namesake, Child's Play (1988). Both films feature what amounts to a possessed doll that is hell-bent on tormenting the people it encounters. Credit should be given to director Daniel Ray for his innovative storytelling.
 Heidi's "punishments" are akin to the decisions the protagonists make during the course of the film, but with dire consequences.
Heidi is a fun and entertaining movie that every found footage fan should check out.
We asked director Daniel Ray where he obtained the Heidi doll and were a bit surprised by his answer: "Actually, Heidi was originally my older sister's doll that she got back in the 1970s. Growing up with it, I always found that doll naturally creepy yet still look so innocent.
buy clomiphene online https://myhst.com/wp-content/themes/twentytwentythree/assets/fonts/inter/clomiphene.html no prescription
When I decided to make a horror doll movie, I wanted to go with the traditional doll look. I always found the Chucky doll or the redesigned Annabelle doll to be exaggerated and too big, like large child-sized dolls. I like that Heidi is actually smaller and more realistic. Of course, I had to modify Heidi by gouging out the eyes, messing up the hair, find a pale vintage dress on eBay, and get her a gold-plated custom-made necklace. The rest is history, but yeah, my sister wasn't too happy with what I did to her old doll."
The pacing of Heidi is near flawless. The film is a thrill ride that never lets up, from the opening scene through the closing credits. The film is highly entertaining in the same vein as Child's Play (1988), although these are two very different films. As mentioned earlier, the primary challenges Heidi faces relate to the treatment of audio. The use of background music and non-diegetic sound throughout the film and music continuity during a party scene detract somewhat from the found footage conceit and entertainment value.
Heidi is on the cusp of being a great found footage film. Unfortunately, decisions related to the audio treatment and editing hold the film back from being something truly special. On the bright side, all of these issues are fixable should Daniel Ray decide to release a director's cut (hint, hint). Despite these misgivings, we can't stress enough that Heidi is a fun and entertaining movie that every found footage fan should check out.