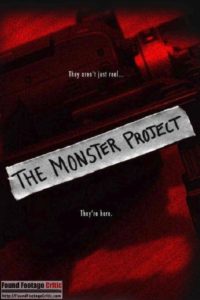 As children, we were always told that monsters do not exist, and they were mere figments of our creative imagination. This long-standing candor will forever be refuted when director Victor Mathieu proves that monsters are indeed real in the upcoming found footage horror movie The Monster Project (2017). What better place to unveil this revelation than the 2017 Cannes Film Festival?
buy elavil online pavg.net/wp-content/languages/new/where/elavil.html no prescription

A vision with roots originating from a 2013 Kickstarter Campaign is now flourishing into reality as The Monster Project is set to premiere at the Cannes Film Festival. Fans of monsters and the supernatural won't have to wait long to see The Monster Project, as Epic Pictures Group will be releasing the film on August 18th, 2017.
The Monster Project is one of several recent found footage films distributed by Epic Pictures Group. The well-regarded distributor also released the found footage horror movies Jeruzalem (2015) and The Dark Tapes (2016).
buy renova generic rxnoprescriptionrxbuyonline.com/renova.html over the counter
As for The Monster Project, the film is a mockumentary style horror movie shaping up to induce spine-tingling jump scares for found footage fans around the world. Similar to Grave Encounters (2011), The Monster Project centers around a film crew looking for their next big break. However, this film adds a unique twist. While filming a documentary on myths and urban legends, the unsuspecting film crew discovers that these tall-tales are actually real.
buy revatio generic rxnoprescriptionrxbuyonline.com/revatio.html over the counter
If the movie trailer is any indication, found footage fanatics and horror movie aficionados will be pleased to see that this film has no shortage of monsters! The Monster Project will have a limited release in select theaters on August 18th followed by all VOD platforms.
buy antabuse online pavg.net/wp-content/languages/new/where/antabuse.html no prescription

buy sinequan generic rxnoprescriptionrxbuyonline.com/sinequan.html over the counter
Additional Resources