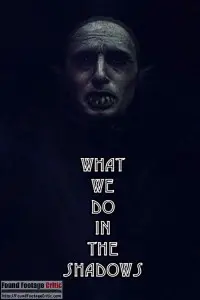 The found footage horror comedy What We Do in the Shadows will be coming to television with the spinoff Paranormal Events Response Unit. The 2014 film, created by Kiwi writer-directors  Taika Waititi and Jermaine Clement, revolved around a group of centuries-old vampires sharing a flat in modern Wellington. The spinoff will be a police procedural starring two cops who appeared briefly in Shadows, Karen and Mike (played in the film by Karen O'Leary and Mike Minogue), now part of a specialized unit keeping the citizens of Wellington safe from the vampires, werewolves, and other supernatural creatures who inhabit the city.
Waititi and Clement initially announced in 2015 that they had pitched the series, but expressed frustration at the lack of funding for New Zealand television. There is no word yet on whether any other actors or characters from original film will appear in Paranormal Events Response Unit. It is also unclear whether the series will be shot in the same mockumentary format as the film. The sequel to What We Do in the Shadows, We're Wolves, starring Stu (Stu Rutherford) and the rest of the werewolf pack featured in Shadows is still in development, with no tentative release date announced yet.
Paranormal Events Response Unit will premiere in New Zealand in 2017 on TVNZ 2 with six 30-minute episodes in the first season.
(Read Found Footage Critic's Review of What We Do in the Shadows)