Do You Prefer a Leg or a Thigh?
We're going to take a look at four scrumptious cannibal found footage movies! Before diving into the found footage, let's set the table with a brief look at the genesis of cannibalism in cinema.
The concept of cannibalistic tribes in the cinema dates back as early as that 1930s, where references are made in a myriad of films to our alleged meat-chomping lost ancestors. Almost all of these older films share a similar plot device – an expedition into the deep jungle where a lost civilization is discovered that has an appetite for mouth watering human flesh! Over the ensuing decades, cannibalism as a genre took root, resulting in beginnings of a recipe for cinematic success.
Now we'll take a closer look at four noteworthy cannibal found footage movie. Bon appetit!
Appetizer: Cannibal Holocaust (1980)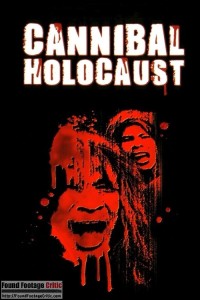 Our culinary journey starts in 1980 with Cannibal Holocaust, an Italian mockumentary style found footage film directed by Ruggero Deodato. Not only is this the first found footage movie to explore cannibalism, Cannibal Holocaust is also one of the earliest and most impactful found footage films ever made.
https://noprescriptionrxbuyonline.com/kamagra.html
https://rxnoprescriptionrxbuyonline.com/lipitor.html
https://buywithoutprescriptiononlinerx.com/doxycycline.html
Following the film's release, Cannibal Holocaust was the center of controversy. The director, Ruggero Deodato was brought up on charges of obscenity and later charged with making a snuff film following rumors that some of the cast were actually killed during filming. Of course none of these claims turned out to be true, as the actors allegedly killed on camera publicly disclosed that they were in fact alive, and Ruggero Deodato was subsequently cleared of the charges.
Although no actors were murdered during the filming of Cannibal Holocaust, the film is not without its dark side. The film contains graphically violent animal cruelty, all of which is unfortunately real, resulting in the banning of the film in many countries.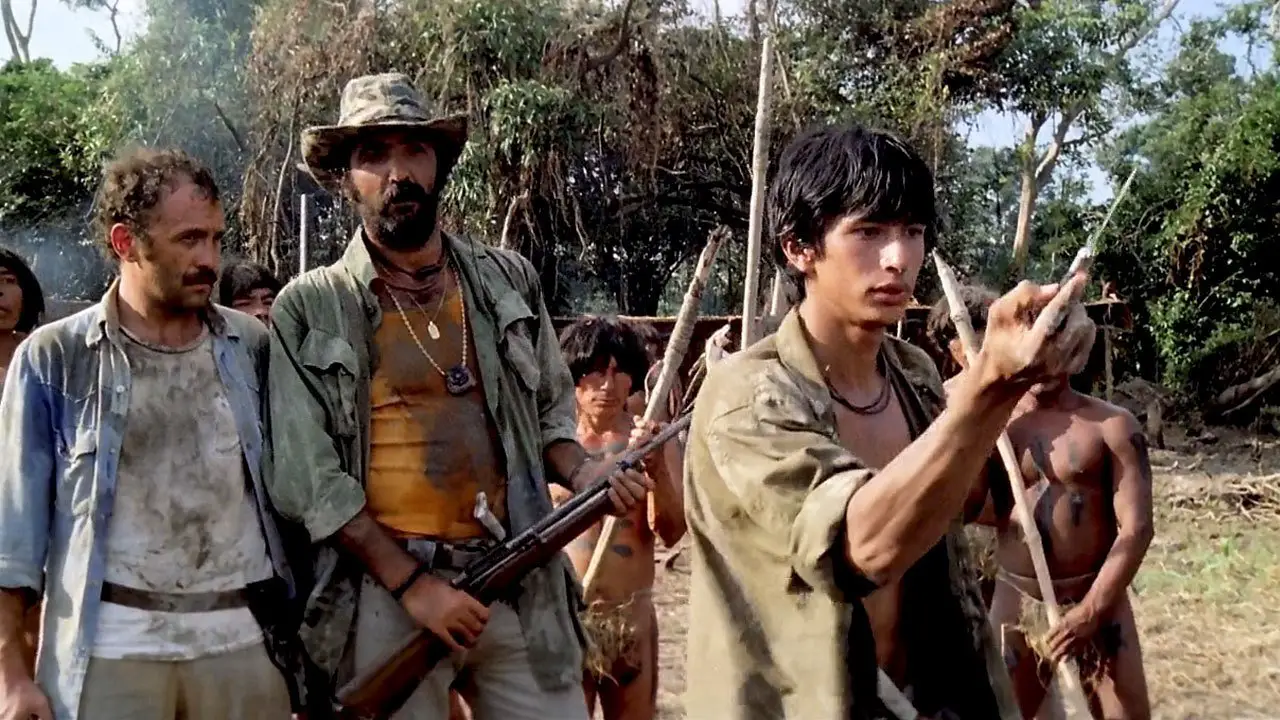 Synopsis
A New York anthropologist named Professor Harold Monroe travels to the wild, inhospitable jungles of South America to find out what happened to a documentary film crew that disappeared two months before while filming a documentary about primitive cannibal tribes deep in the rain forest. With the help of two local guides, Professor Monroe encounters two tribes, the Yacumo and the Yanomamo. While under the hospitality of the latter tribe, he finds the remains of the crew and several reels of their undeveloped film. Upon returning to New York City, Professor Monroe views the film in detail, featuring the director Alan Yates, his girlfriend Faye Daniels, and cameramen Jack Anders and Mark Tomaso. After a few days of traveling, the film details how the crew staged all the footage for their documentary by terrorizing and torturing the natives. Despite Monroe's objections, the television studio Pan American still wishes to air the footage as a legitimate documentary.
Soup/Salad: Crowsnest (2012)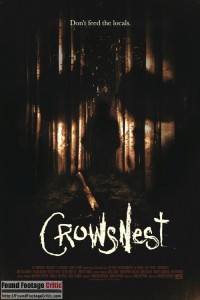 For our second course we're returning to the United States and serving the 2012 found footage classic Crowsnest, directed by Brenton Spencer. If you still have an appetite after watching Cannibal Holocaust, then this film is certain to wet your pallet for more entrails.
The mainstay of Crowsnest is the deep dark secret that lies within the infamous RV that is stalking five friends who get lost in the backwoods of America during a weekend getaway. We can't delve too deeply into the plot of Crowsnest without entering spoiler territory.
The film has exceptional acting, a great cast, great found footage execution, an unforgettable plot, lots of human gore, and more jump scares than you can shake a femur at. Crowsnest is a must watch film for anyone with aspirations of becoming a butcher at their local grocery store.
Is Crowsnest worth watching? Read our full spoiler free review of Crowsnest here.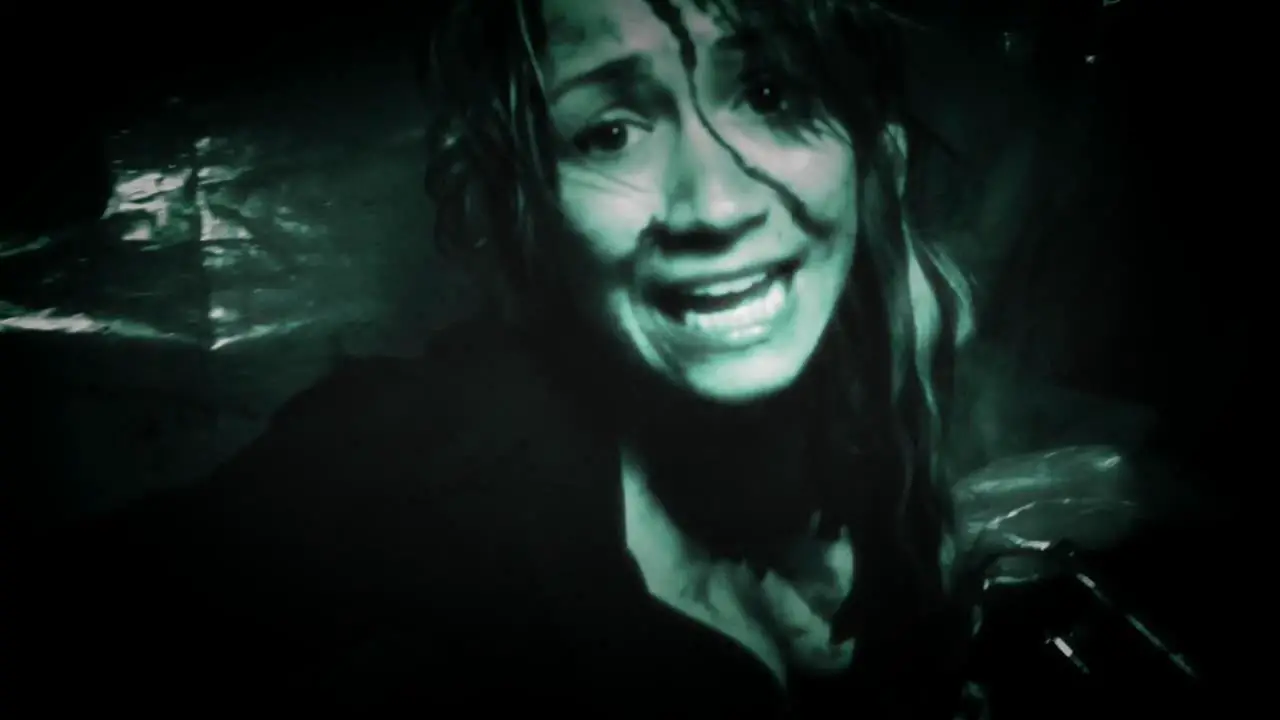 Synopsis
This is a found-footage movie from Canada about five young friends who go on a trip to a cabin back in 2011, but on the way (while filming it) they head off the beaten track to a place called Crowsnest where they have heard that you can buy beer for half price! They get the beer but at the same time they receive a warning to head back where they came from or they will die. But they don't take the warning too seriously and keep driving in to the forest. But they seem to be lost, then an RV hits one of them and all hell breaks loose. There's something about the people in the RV. Will the friends survive?
Main Course: Cannibal In The Jungle (2015)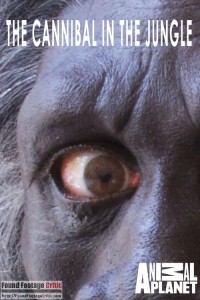 For the main course we've prepared a healthy serving of Cannibal in the Jungle, a 2015 mockumentary style found footage horror film produced by Animal Planet and directed by Simon George. Cannibal in the Jungle is in the company of a series of like-minded mockumentary style found footage films produced by Animal Planet.
Don't be fooled by the cable TV source of this film – Cannibal in the Jungle is not for the faint of heart. The film has exception acting, great found footage execution, a realistic and compelling story, and keeps the tension going right to the bitter end.
The mockumentary style of Cannibal in the Jungle has all the gritty realism one would expect from a real documentary, including interviews, newspaper clips, voice overs, and of course plenty of found footage.
Read our spoiler free Cannibal in the Jungle movie review here!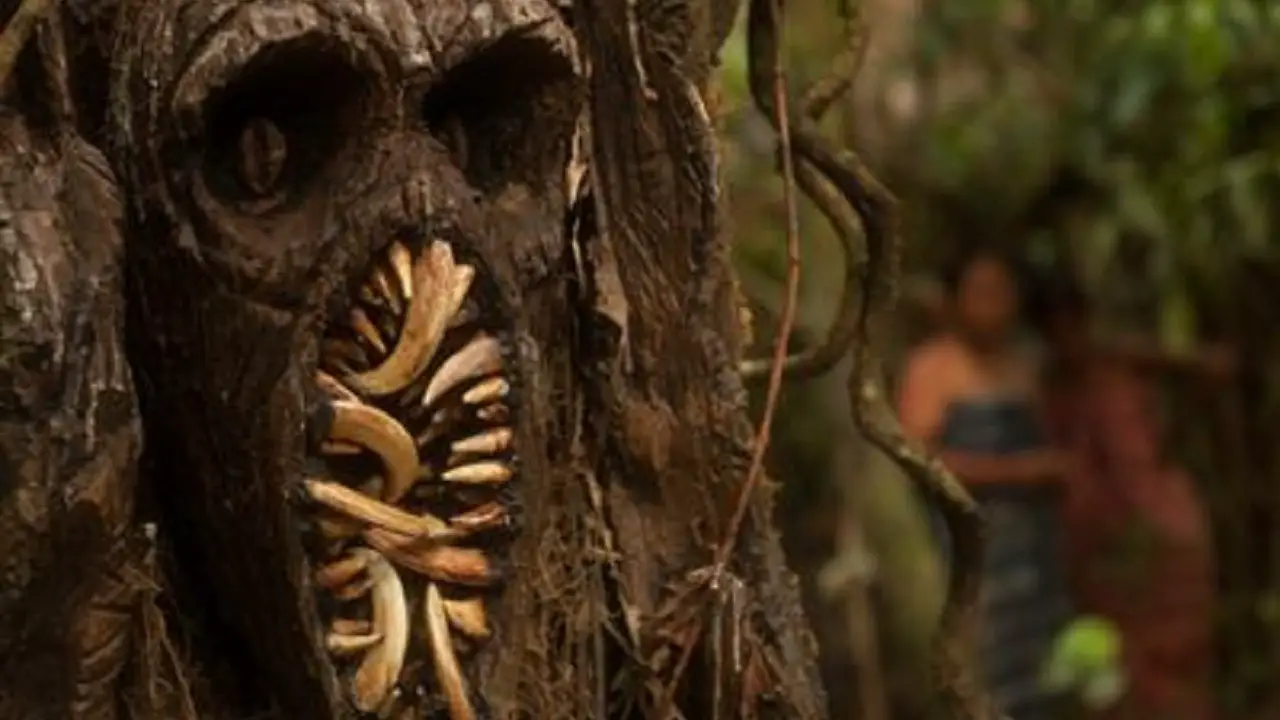 Synopsis
In 1977, an American scientist was convicted of killing and cannibalizing two colleagues in the jungles of Indonesia. Dr. Timothy Darrow, branded 'The American Cannibal' by the press during his trial, defended himself with an alibi that was insane. Beyond impossible. He claimed a mythic human-ape creature was responsible for the murders. In 2003, the remains of a species matching Darrow's description were found. In the very same jungles of Indonesia. It is now regarded as one of the most important anthropological finds ever: a team of scientists discovered the bones of an entirely new species of human, one that stood only three feet tall. But did they go extinct? An indigenous tribe on the Indonesian island of Flores, where the hobbit remains were discovered, have their own accounts of little wild men that climb trees and walk on two feet. They also describe them as cannibals. And according to their legend, they may never have died out at all.
Dessert: Shallow Creek Cult (2012)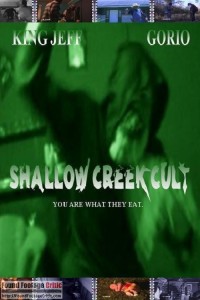 Topping off the fourth and final course of our human flesh extravaganza is a little known gem called Shallow Creek Cult, a found footage horror/comedy written and directed by King Jeff. The film stars King Jeff and his brother Gorio.
Quoting the lyrics of Pink Floyd's song Another Brick in the Wall, "if you don't eat your meat, you can't have any pudding." We presume you've had your fill of meat from the first three films, so now you can sit back and enjoy the lighter side of found footage cannibalism.
Shallow Creek Cult is billed as a horror/thriller, but plays out as a very mild horror film infused with intentionally campy comedic elements. What makes this film work is the casts' deadpan-serious acting during scenes that are nothing short of outlandish.
Read Shallow Creek Cult spoiler free movie review here!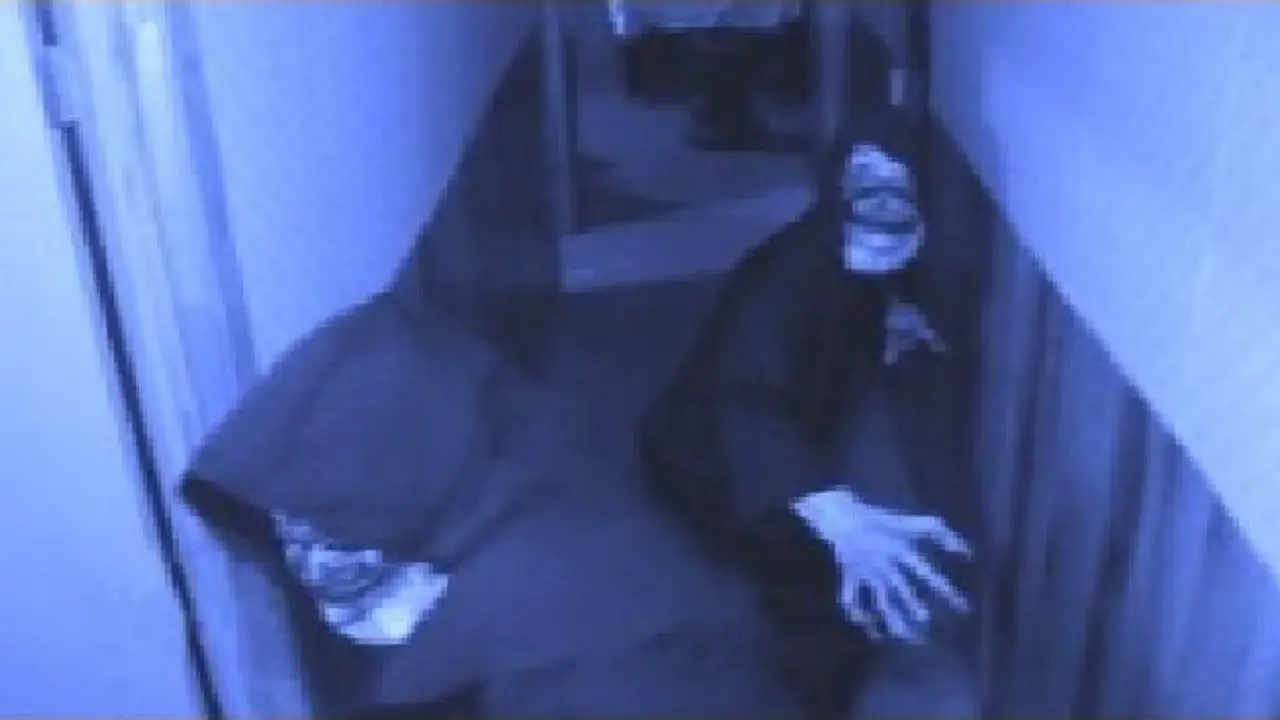 Synopsis
In this found footage horror movie, two brothers, Getty and Jessie Carmichael, drive 90 miles to Shallow Creek, Louisiana to honor their deceased grandfather's final request to spread his ashes over the Shallow Creek camp site pond. After the ceremony, they stumble across a viciously cannibalistic and mysterious cult, presumed responsible for the bloody massacres of various Shallow Creek, Louisiana residents. And now the Carmichael brothers are on the menu.
We would like to hear what your absolute favorite cannibal found footage movies are. Please leave comments at the end of this article and let us know!
buy zoloft online https://ponderapharma.com/wp-content/themes/twentythirteen/inc/php/zoloft.html no prescription

Browse All Cannibal Films on Found Footage Critic
If you're still craving human flesh, we invite you to browse Found Footage Critic's complete catalog of cannibalism found footage films. We're sure you'll find at least one film that hits the right spot!
A young boy named Miroslav Moskalenko, records for an audience with his iPhone after discovering a bag of tapes submerged in a lake. He creates a channel for the purpose of uploading and archiving these tapes to the internet, and in his Introduction he reveals some very Primordial secrets about himself. He reveals that he has lived since almost the beginning of time itself, and has extraordinary superpowers. But things take a dark turn, as he begins to get stalked by a Masked Individual, and a T...[Read More]
Female college student Lin Meishan disappeared after attending the Gongliao Ocean Music Festival. After searching for many days unsuccessfully, Lin's father decides to turn to a group of reporters for help, specializing in supernatural phenomena.