Coming Soon: Found Footage Critic to Launch New Movie Streaming Service
Found Footage Critic is preparing to launch a new online movie rental streaming service dedicated to found footage films. The new service will be integrated in FoundFootageCritic.com, so visitors browsing found footage films can rent and watch films without leaving the site!
buy Flagyl online Flagyl no prescription cheap Flagyl generic
In a recent press release, Michael Steinberg, the proprietor of Found Footage Critic, said, "We're excited about this new initiative as it will provide found footage horror fans with direct access to found footage films and enable them to support the efforts of indie horror filmmakers. Our site already has the focused attention of the global found footage horror fan community, and the integration of this new streaming service creates a unique opportunity for indie horror filmmakers to put their found footage film creations in front of thousands of dedicated found footage horror fans around the world."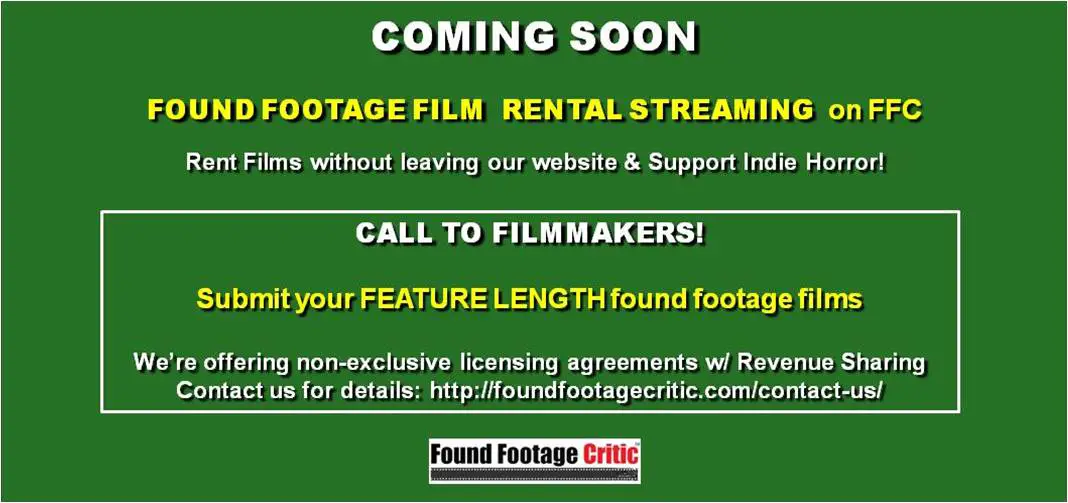 Filmmakers: Submit your Found Footage Films!
Found Footage Critic is now calling out to indie filmmakers to submit their feature length found footage films for inclusion in the new service, and is offering filmmakers non-exclusive licensing agreements and a share of the rental fees.
Non-exclusive licensing agreement
Revenue sharing
Powered by Vimeo™
Exposure to thousands of found footage fans around the world
Active marketing of your found footage film through FoundFootageCritic.com
Closing in on 500 found footage films, our site boasts the world's largest online database of pure found footage films
Filmmakers can contact us here for more information, or send us a direct message on Twitter @FoundFootageFan or Facebook https://facebook.com/FoundFootageCritic/.