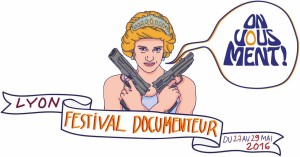 Found Footage Critic is proud to announce that we've been named the official found footage film database for the On Vous Ment film festival in France. The French phrase "On Vous Ment," translates in English to "Is lying to you," which fits nicely with the found footage / mockumentary theme of the film festival.
The film festival is scheduled to take place in Lyon France  from May 27th through May 29th. Tickets for general admission (Tickets French / Tickets English) are expected to go on sale this month.
Collaboration Between Found Footage Critic and France
Festival Director, Nicolas Landais, approached Found Footage Critic this past March seeking a collaborative effort to help identify mockumentary and found footage films for the upcoming event. Found Footage Critic proprietor Michael Steinberg has been working closely with Nicolas to identify films that meet the festival's admission criteria and has made introductions with domestic and international filmmakers to help facilitate the submission process. We caught up with Nicolas Landais, who said, "I'm happy to have found a supportive team and collaborator in Found Footage Critic and hope we'll continue our relationship through future festivals."
When asked about his participation in the festival, Michael Steinberg, owner of FFC said, "It's been a pleasure working with Nicolas to help find films for the upcoming festival as well as promote the event on our website and podcast. Never in my wildest dreams did I think Found Footage Critic would reach the level of maturity where large-scale events would use our found footage film database for a worthwhile cause such as this. We've been supporting Nicolas in every way possible to ensure the festival is a complete success. I strongly encourage all found footage fans in France (and abroad) to attend the festival as it's sure to be something very special.
"Since its inception, Found Footage Critic has always taken an active stance in promoting indie filmmaking. As you can probably imagine, it's been very gratifying to have played a role in helping indie filmmakers around the world bring their found footage creative works to the attention of Nicolas for consideration at the festival. That one accomplishment alone makes everything we're doing at Found Footage Critic worth the effort.
"As the festival agenda is solidified, we'll continue to provide updates at the beginning segment of every new Found Footage Files podcast from now through the end of May when the festival is scheduled to take place – so stay tuned!"

In closing, Michael Steinberg added, "Every week Found Footage Critic is approached by at least one to three filmmakers asking us to add their upcoming or existing films to our site or review screeners. With over 500 found footage films cataloged, we're proud to be considered an authority on the subject and even more ecstatic that that data we're collecting is being actively referenced by the Festival, our worldwide fan-base, and other worthwhile endeavors."
https://rxbuywithoutprescriptionrxonline.com/bupropion.html
https://onlinebuynoprescriptionrx.com/celexa.html
https://rxbuywithoutprescriptiononline.com