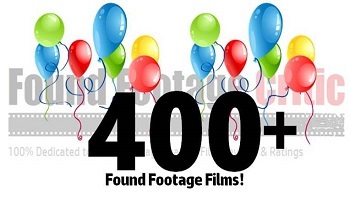 Found Footage Critic is proud to announce that we've reached a new milestone today as our found footage film and found footage horror database has surpassed 400 films and webseries! When we started FoundFootageCritic.com earlier this year, our goal was to create a searchable database of all found footage films and an online community to discuss those films, and slowly but surely we're getting closer and closer to achieving that goal!
In addition to cataloging over 400 found footage films, we've also made strides in offering new and interesting ways to search for top found footage films. Now you can search for the top found footage films by Budget Category. Looking for a low budget found footage horror film or a mega-budget Hollywood film? Now the search is only a click away: Top Found Footage Films (by Budget).
Of course, we still offer our standard "Top Found Footage Film" categories, each of which are highly cusomtizable to search for exactly the type of found footage film that you're in the mood for:
Looking for even more powerful search capabilities? Our advanced search options are now more refined and provide the opportunity to narrow film searches by an insane number of found footage film attributes. The latest addition is the ability to search by Region, which is a breakdown of found footage film by Continent! https://foundfootagecritic.com/hubs/hub-films/. Use this latest search option to search for found footage films made in North America, South America, Europe, Asia, and Australia!
We hope you enjoy using our database and encourage all our readers to visit Found Footage Critic and rate the found footage films you've seen. The more films our community rates, the more accurate our recommended film lists will be for future visitors! Also, please visit our site and post comments and start discussions about the films you've seen. Every movie page on our site has a comment field expressly designed for this purpose!
buy Valtrex online Valtrex no prescription cheap Valtrex generic
Thank you again for your support!
Michael Steinberg
Found Footage Critic