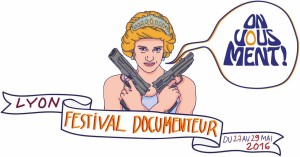 France is jumping on the found footage bandwagon this spring with a Mockumentarty Film Festival scheduled to take place in May.This festival is shaping up to be the go-to event in France for found footage aficionados.
Filmmakers are encouraged to submit their mockumentary creations for consideration at the festival. Both shorts and feature length films are permissible, but most importantly, the mockumentary must be 100% fictional. The official festival website can be viewed in English here: https://onvousment.fr/en/
OFFICIAL PRESS RELEASE: CALL FOR ENTRIES  – MOCKUMENTARY FILM FESTIVAL – APRIL 2016
On Vous Ment Mockumentary Film festival will take place from May,27th to 29th at Ciné Mourguet in Sainte-Foy Lès Lyon (near Lyon, France). Buy valtrex
This one of a kind event is dedicated to mockumentary genre films, that is to say fiction films that follow the conventions of documentary. This festival claims to be a place of reflexion about the influence and the manipulation of images. Buy amoxicillin
Campaigning for artistic freedom to expand at its best, our festival is open to professional productions as well as self-produced films. During a weekend of celebrating the mockumentary genre, we want deconstruction, punk amusement and childish gullibility to coexist. Buy zithromax
The submitted films will be seen and put to the vote by a prestigious jury – no pressure, cool it ! – and the winners will be awarded with prizes.
Registration details
Sending deadline : April 1st, 2016
Register online at

 

onvousment.fr
Topic and length at liberty
Compulsory : Mockumentary genre, films of fiction displaying the content and shape features of documentary films. Fake documentaries and « found footage » are accepted into our selection but docudramas (documentaries that partly contain fiction facts) are not.
Visit our website to have a look at the complete rules and know more about the festival
Contact us for any question about registration at : info@onvousment.fr
Contact
Nicolas LANDAIS
On Vous Ment ! Festival documenteur
du 27 au 29 mai 2016

+33672544312
onvousment.fr