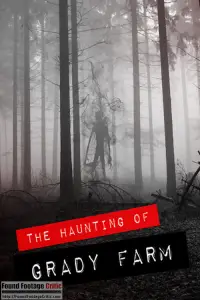 The Haunting of Grady Farm (2019)  is a found footage horror film that was directed by Matt Dickstein and written by Jeremiah Burton, Shane Hartline, Ben Kaplan, and Malia Miglino. The film delves into Irish and Scottish folklore, more specifically, the Sluagh or spirits of the restless dead.
If co-write and co-star Shane Hartline looks familiar, that's because he also co-starred in the Cam Girls segment of the groundbreaking found footage film anthology, The Dark Tapes (2016).
Synopsis: Emily Wolf is the host of a travel show documenting supposed haunted locations around the country. The destination of her next episode happens to be in rural Florida, where she and her cinematographer's old college friends live.
buy cytotec online https://rxxbuynoprescriptiononline.com/dir/cytotec.html no prescription

  What happens next is nothing short of pure terror.
Video Review
Special thanks to composer Vito Marchese for allowing us to use his score, "Leave This Place With Me" performed by The Kahless Clone, as our official FFC video review theme song.