Interview with Carlos Almón Muño, Director of "The Last Witch" (2015) and "Dark Lifes" (2014)
The Found Footage Critic had the good fortune of interviewing Carlos Almón Muñoz, director of the upcoming Found Footage horror film, "The Last Witch."  Many of our readers are eager to learn more about "The Last Witch," and here's what Carlos had to say…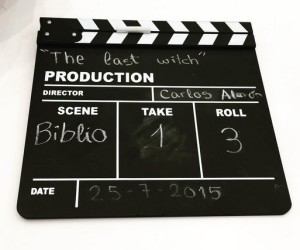 FFC: We're excited to learn more about your latest feature film, "The Last Witch." Is the plot for "The Last Witch" purely fictional or are there actual local myths/legends that the film draws from?
Carlos: The plot is 100% fictional, but is related to actual events that took place in Spain, circa 1619, where six women were accused of witchcraft. Five of the accused women died, and the whereabouts of the sixth woman are still unknown to this day.
FFC: In 2014, you launched "Dark Lifes," a four part found footage mini-series on You Tube. Can you describe what inspired you to make "Dark Lifes"? How did you develop the plot?
Carlos: Dark Lifes was a crazy idea, where we decided to simply "run with the camera and film a horror short." We really enjoyed the experience and decided to produce additional episodes, but always with preparation and a script. The shoots utilized actual abandoned locations, such as the old ruins in Episode 2 and the abandoned sanitarium in Episode 4. We had a great time filming the series, and the series itself had a good following, especially in Spain, México, Argentina, and Colombia.
FFC: Did "Dark Lifes" play a role in your decision to shoot "The Last Witch" as a found footage film?
Carlos: Yes, and some jump scares in "The Last Witch" were inspired by Dark Lifes, which pulled-off some really good screams!
FFC: Both Dark Lifes and The Last Witch share the common theme of witches. Is this theme a personal interest of yours?
Carlos: Not really, but the premise of Dark Lifes was based on the same true events as "The Last Witch" – that's the primary reason why a witch is part of the plot in Dark Lifes, its become part of our little world.
FFC: We've seen quite a few found footage films coming out of Spain over the last couple of years. From your experience, can you tell us why you think found footage is so popular in Spain?
Carlos: The answer is rather simple – in Spain, it's very difficult to get support for a big budget film. Found Footage is a cost-effective alternative and can produce superior results in the horror genre, like REC.
FFC: Is there anything else you would like to share with our readers about "The Last Witch"?
Carlos: Yes, you must see "The Last Witch" wherever you can! If you like a good story that takes place in a dark world, you'll appreciate this film. Due to production issues and other challenges, we were unable to film all the scenes that we wanted – we completed the principle filming of "The Last Witch" in only two days.
FFC: Are you working on any new projects you would like to share with our readers?
Carlos: Yes, I have a script that I wrote for a thriller/suspense film, but I need big support to make it happen, an effort I'm still working on. And for this autumn I'm planning on filming a horror short based on the great film, "The Strangers," which takes place in a remote cabin in the mountains – this film will be terrifying, I promise.
FFC: How and when will "The Last Witch" be released?
Carlos: We submitted the film to two festivals and are awaiting a response. If we aren't selected, and we don't get a distributor, perhaps we'll release the film on VOD, to bring it to all the countries.
FFC: Would you like to share any personal information about yourself and how you got started in filmmaking?
Carlos: All the projects I worked on were with a very, very low budget, but I promise this, all my upcoming projects will be more professional, more talented, and more terrifying. I started my career in film making with only my passion and one camera, and I will carry that passion to all of my projects till my death.
FFC thanks Carlos Almón Muño for taking the time to offer our readership some insight into his upcoming film "The Last Witch," a truly horrifying move that everyone should check out!
Read more about Carlos Almón Muño's latest projects here:
https://cpff.ca/wp-content/languages/new/zoloft.html
https://cpff.ca/wp-content/languages/new/fluoxetine.html
https://cpff.ca/wp-content/languages/new/lipitor.html