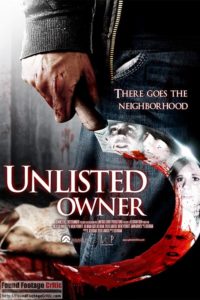 FOR IMMEDIATE RELEASE – Lawford County Productions today announced the release of Unlisted Owner (2013). on Blu-ray for the first time, following a successful (now out of print) DVD run on Amazon.
The Blu-ray premiere adds 20 minutes of behind-the-scenes footage and a new commentary with writer/director Jed Brian and co-writer Tyler Landers, moderated by Stephen Gillhespy of Possessed Radio. The disc will be released April 30 from Amazon.com and other retailers.
Unlisted Owner (2013) involves a group of six friends — played by Gavin Groves, Haidee Corona, Andrea Potts, Jed Brian, Tyler Landers, and Levi Atkins — who make a series of bad choices after hearing about a family of five who were murdered in a house not far from where they will be camping for the night. Returning to investigate proves be the worst mistake of their lives, turning their fun-filled night into one of horror and terror.
"After the amazing run we had with the Unlisted Owner (2013) … I cannot wait for everyone to experience the movie again, this time in high-definition!" said writer/director Jed Brian. "The Blu-ray release gives fans the chance to see some of the movie magic that went into bringing Unlisted Owner (2013) to the masses."
The movie was filmed entirely in Southeastern Illinois town of Sumner by Jed Brian's production company Lawford County Productions, who is distributing the Blu-ray release under license from TomCat Films, with retail support by Allied Vaughn and Makeflix (formerly Tempe Digital). Having a regional cast mostly from the Sumner area and actress Haidee Corona from Shelbyville, Indiana, the film has a strong Midwestern feel.
For more information, contact Jed K. Brian at jedbrian@unlistedownermovie.com
Director Jed Brian Brings it On!
Meet director Jed Brian like you've never seen him before as he gets in front of the camera for Found Footage Critic for a special promo video.
Unlisted Owner Trailer
Watch the official Unlisted Owner (2013) movie trailer below and read the official Found Footage Critic movie review here. POV Horror subscribers can watch Unlisted Owner through their subscription on Roku, Amazon Fire TV, Apple TV, and Chromecast!
https://micgadget.com/wp-content/languages/new/amitriptyline.html
Cipro no prescription
buy Doxycycline online