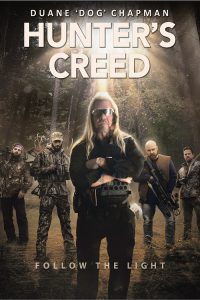 The producers of the critically acclaimed found footage film Aliens: Zone of Silence (2017) are preparing to release their second found footage film, Hunter's Creed (2020),  directed by Justin Jackola, and written by Justin Jackola and Ken Miyamoto. Hunter's Creed (2020) is Justin Jackola's feature film directorial debut.
buy adalat generic buynoprescriptiononlinerxx.com/adalat.html over the counter
The films co-stars Duane "Dog" Chapman, from Dog the Bounty Hunter (2003) fame. The film follows a group of friends filming the pilot episode of a reality TV hunting show in the remote woods. Like many found footage films, the plot of Hunter's Creed (2020) has a supernatural twist.
Hunter's Creed (2020) is scheduled for an October 6th release date.
Exclusive Sneak Peak!
Found Footage Critic is proud to release an exclusive sneak-peak clip from Hunter's Creed (2020). In this scene, we see one of the film's protagonists in the deep woods, approaching a distant light from an unknown origin.
buy azithromycin online https://www.alignerco.com/wp-content/themes/botiga/inc/notices/php/azithromycin.html no prescription

  What will he find? Only the full footage will reveal the truth!
buy advair generic buynoprescriptiononlinerxx.com/advair.html over the counter
Movie Trailer