Director Mike Chester started making films just out of high school and already has two found footage films at or near completion. He looks to be a voice worth keeping a watch for in the horror and found footage film genres. Found Footage Critic had the unique opportunity to interview Mike Chester and get some insight behind his two upcoming found footage horror films, WHERE'S WENDY (2016) and THE TRICK OR TREATERS (2015).
Where's Wendy (2016) – Found Footage Horror Graduation Party!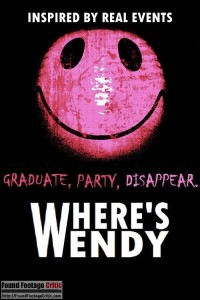 Mike Chester just completed principal photography of WHERE'S WENDY, a found footage horror film about Wendy, the film's namesake, who goes missing after her post-graduation party. Wendy's boyfriend goes looking for her, and while she apparently disappeared in the woods, things (of course) turn out much more sinister than first expected.
Mike Chester is positioning WHERE'S WENDY as a found-footage fairy tale with paranormal undercurrents. He used an overly improvisational style he hopes will evoke more myth than regular scripted story. Indeed, he describes Where's Wendy as a cross between Alice in Wonderland and PARANORMAL ACTIVITY (2007).
Official synopsis: When a high school graduate's girlfriend goes missing after a series of celebratory parties, Sean and his best friend instantly start searching for Wendy and are joined by her closest girlfriend to help investigate the beach at the end of their small town where she reportedly went for a mysterious after party with other local girls who are also reported missing. As the teens continue their search, Sean quickly discovers that the hunt for his girlfriend has lead them into an irrevocably dark world.
The Trick or Treaters (2015) – Halloween Found Footage Horror!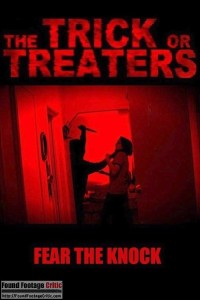 Never letting up, Mike Chester had recently completed his first found footage film, THE TRICK OR TREATERS, in 2014. It's a Halloween film he began as a short when he was in high school. One group of teenagers with a video camera is out on the eponymous night filming a Halloween event for their school when they encounter another group who also has a camera. But they're up to more than just collecting candy, and as the two stories intertwine, things start to go horribly wrong.
While cutting between two different cameras in a found footage film has certainly been done before, the idea in THE TRICK OR TREATERS that there are two completely different narratives interspersed demonstrates Mike Chester was already experimenting with the regular found footage format from the start.
THE TRICK OR TREATERS started shooting in 2011, right after he got out of high school, through 2014, with friends and neighbors doubling as cast and crew. It has expanded over that time into a full feature. This potential new addition to the Halloween canon looks dark and extreme, judging by the movie trailer, and garnered attention to Mike Chester when it was posted late last year on various websites, including Found Footage Critic.
Official synopsis: During a mellow pre-Halloween night of drinks, pranks and old horror films, Amy and Jake film a last minute schedule video for their school's annual Halloween fundraiser, but they are quickly interrupted by a strange group of trick or treaters, also equipped with a video camera. Dismissing it as a prank by their friends, they ignore the strange interruption and continue with their night. As strange things continue to occur and escalate to an extreme level, the students quickly discover that they are dealing with dark individuals…and they don't want candy.
Getting Inside the Head of Director Mike Chester
As for his two latest found footage creations, Mike Chester is currently in discussions with a distribution company, determining if THE TRICK OR TREATERS will go straight to VOD, or possibly have a shot with a full DVD and limited theatrical release. Meanwhile, Chester in now in post-production on WHERE'S WENDY.
"I wanted to use found footage to capture strong psychological elements," Mike Chester says. "There is an intense sense of fear and stress in young adults."
On its face, WHERE'S WENDY is shaping up to be a more traditional found footage film, in which a boyfriend goes looking for his girlfriend who goes missing after their respective post-graduation parties.
buy Bactroban cream online Bactroban cream no prescription cheap Bactroban cream generic
But don't expect the normal plot beats. "I wanted to use found footage to capture strong psychological elements," Mike Chester says. "There is an intense sense of fear and stress in young adults." He felt that the found footage style could capture the feeling of dread that fairy-tales often do so well, with intensely odd imagery and overstated color by design. Not only is the title a deliberate reference to Wendy in Alice in Wonderland, he also hopes it evokes, no kidding, the children's book Where's Waldo?
"THE TRICK OR TREATERS had more of a complicated script," Mike Chester reports. "That was why it took so long. WHERE'S WENDY is improvised, atmospheric, and leans more towards the surreal."
Mike Chester shoots on Canon handheld cameras used friends and family members for crew and financial support.
He lists his favorite found footage films as THE ST. FRANCISVILLE EXPERIMENT (2000), THE COLLINGSWOOD STORY (2002), a relatively unknown early webcam-only film, and the truly creepy LAKE MUNGO (2008) (a favorite of this writer). He appreciates each for their gritty naturalism "without trying too hard." Their steadily rising creepy atmosphere is "almost hard to handle."
We'll post updates when we learn the release dates or have the opportunity to review these two intriguing films.
Additional Resources