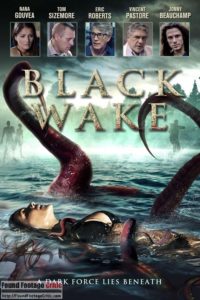 Mark your calendars—on August 7, 2018, the zombie apocalypse will be upon us.
But fear not, for there's still time to prepare.
buy cytotec online www.mabvi.org/wp-content/languages/new/usa/cytotec.html no prescription

After a prolonged post-production period to get things just right, the long-awaited found footage horror movie and zombie film, Black Wake (2018), will be available on DVD and all VOD sites.
Click here to prepare for the apocalypse by pre-ordering your copy of the Black Wake DVD on Amazon.
With the good news comes the bad.
We regret to inform our fan community that during a visit to the set of Black Wake (2018) during filming, Found Footage Critic founder and owner Michael Steinberg was infected by the Black Wake parasites. Yes, our fearless leader was turned into a "Sea Zombie." When you watch Black Wake (2018), keep a sharp eye out for Michael Steinberg—he makes several appearances in the film. Rest easy, we are pleased to say that since the horrific event, he has made a full recovery.
While we all wait for the film's release, Found Footage Critic is proud to present a brand new Black Wake (2018) movie trailer:
Synopsis
Specialists gather in a top-secret facility to investigate a series of strange deaths on beaches along the Atlantic Ocean. One of the team's scientists (Nana Gouvea) examines video evidence to uncover a possible parasitic explanation for the fatalities.
buy amoxil online www.mabvi.org/wp-content/languages/new/usa/amoxil.html no prescription

But when a determined detective (Tom Sizemore) sends her the crazed writings of a mysterious homeless man (Jonny Beauchamp), the scientist slowly learns that the actual threat may be more dangerous — and far older — than anyone ever imagined. Can she convince her colleagues (led by Eric Roberts) of the true danger before an ancient force rises from the sea to bring madness and death to all of humanity?
Cytotec no prescription
http://rxbuyonlinewithoutprescriptionrx.net/zocor.html
Plavix no prescription