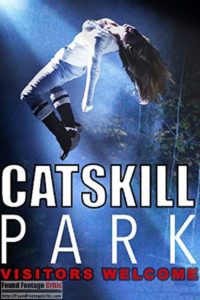 Los Angeles, CA – March 4, 2019 – Freestyle Digital Media, the digital film distribution division of Byron Allen's Entertainment Studios, releases the DVD / BLU RAY of the horror/sci-fi/thriller Catskill Park (2018). The found footage alien thriller debuted on VOD to rent and own on digital HD across North American internet and satellite platforms through Freestyle Digital Media on November 27th, 2018. Robust sales and horror / science fiction fan demand have demanded its life in the DVD / BLU RAY space.
Based on a real story, Catskill Park (2018) is a chilling tale about a camping trip that turns into a living nightmare when a blizzard traps four friends in 36 inches of sudden snow on Halloween night. A race for life ensues as they are hunted by horrific monsters, discovering a larger alien conspiracy with every terrifying stride.
Directed by Vlad Yudin, Catskill Park (2018) was produced by Dan DeFilippo and Edwin Mejia for Pipeline Entertainment and The Vladar Company.
The Catskill Park (2018) cast includes: Lauren Francesca ('Sam'), Gregory Lay ('Tommy'), Alexander Cendese ('Ex'), Melissa Haley Smith ('Monica'), Wen Yann Shih ('Karen'), and Brittney Lee Hamilton ('Liz'). With Rajesh Nahar ('Dr. Charles Roy'), Tristan Montejo Garcia ('Little Boy'), C.R. Marchi ('Ranger'), Gio Perez ('Mike'), and Timothy M. Schumacher ('Jimmy') in supporting roles.
"The response to the film has been incredible to date. We had over 2 million engagements on our social media platforms in the first month alone. We're really excited to give the fans the ability to own the film forever," said Dan DeFilippo, CATSKILL PARK producer and President of Pipeline Entertainment. "What we did with this film was raise the bar, elevate the cinematic experience within this particular genre. The way our audience has embraced the title, I think we succeeded at just that."
Movie Trailer