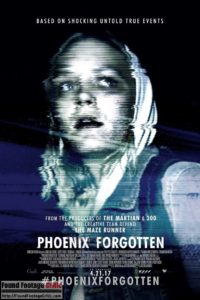 For the past twenty years, UFO enthusiasts worldwide have been mystified and intrigued by a mass UFO sighting that took place on March 13, 1997—an event known as The Phoenix Lights. Thousands of people spanning 300 miles in the Phoenix-Tucson-Nevada region reported seeing a triangle formation of stationary lights, purportedly of alien origin.
If you're thinking that The Phoenix Lights would make the perfect subject matter for a found footage film, then you would be correct. So much so, that two found footage films were created on The Phoenix Lights in as many years.
buy Viagra Black generic newonlineandblo.com/ over the counter
In 2015, the found footage genre was graced with the sci-fi horror film, Phoenix Incident (2015).  Two years later, a second found footage treatment of The Phoenix Lights is set for an April 21, 2017 theatrical release called Phoenix Forgotten (2017). The film is directed by Justin Barber, written by T.S. Nowlin, and stars Luke Roberts, Chelsea Lopez, Justin Matthews, and Florance Hartigan.
buy vidalista generic newonlineandblo.com/vidalista.html over the counter
Click here to read our official PHOENIX FORGOTTEN Movie Review!
Phoenix Forgotten (2017) Synopsis
In the spring of 1997, several residents of Phoenix, Arizona claimed to witness mysterious lights in the sky. This phenomenon, which became known as "The Phoenix Lights," remains the most famous UFO sighting in American history. On July 23, 1997, three high school student filmmakers went missing while camping in the desert outside Phoenix. The purpose of their trip was to document their investigation into the Phoenix Lights. They were never seen again. Twenty years later, Sarah Bishop, a documentary filmmaker and younger sibling of one of the missing, returns to Phoenix to delve into their disappearances and the emotional trauma left on those that knew them. Nothing can prepare her for the shocking discovery of a tape from the night her brother and his friends disappeared.
buy vilitra generic "https://newonlineandblo.com/vilitra.html over the counter
Click here to read our official PHOENIX FORGOTTEN Movie Review!
Phoenix Incident (2015) Synopsis
Thursday March 13th, 1997 marks the date of the Phoenix Lights, the largest mass UFO sighting in US History. The night of the incident, four Phoenix residents vanished in the Estrella Mountain National Park, south of Phoenix. Glenn Lauder (28), Mitch Adams (29), Ryan Stone (27), and Jacob Reynolds (28) were reported missing to the Maricopa County Sheriff's office. The infamous "Lauder Case" has become the longest unresolved missing person's case in Arizona history.
Additional Resources